GOTS Organic Certification
We are proud to announce that Creative Handicrafts has officially been presented with a GOTS (Global Organic Textile Standards)
Certification. This means that a thorough examination has found that Creative Handicrafts complies with the various precautionary measures as well as diligent worker and environmental safety. We are now authorized to store and manufacture organic textile products.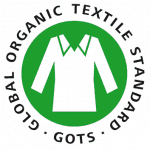 Putting Safety First
The theme for the month of April was "Safety First" The staff and women members of Creative Handicrafts gathered together for a session on Fire Safety on the 21st of April 2014 and a session on First Aid on the 22nd of April 2014. Both these sessions were designed to be
interactive with the women coming forward and demonstrating the techniques learned.
Friends from SETEM
We were happy to have with us Ms. Elena Arango, Mr. Iván López Galilea and Ms. Mireia Chacon from SETEM for almost a month. We thank them for all the activities they conducted during their time here. Especially the "Snapshot Project" where the children and women associated with Creative Handicrafts were given cameras and asked to take pictures of events and moments of significance to them. A presentation was made on the last day and the groups picked the winner. All of us at Creative will miss our 3 new friends and look forward to seeing them again soon.