Comprehensive Manufacturing Services
Pattern Making & Grading
Your specs and drawings transformed into production-ready patterns.
Custom Designs & Consultancy
Need assistance with your designs? Our experienced team is here to help.
Product Sampling
Pre-production sample garments made for final approval.
Fabric Sourcing
We'll search our extensive supplier network to find the right fabric for your garments.
Private Label
Your products manufactured under your brand name. Packed with your tags and labels.
Cut & Sew Manufacturing
Production of garments from your patterns starting at 100 units per style.
We take quality seriously. Every product passes through multiple quality checks before it is shipped.
Fabric is checked on arrival
We ensure that shade matches approved color and shrinkage is within acceptable limits.
On the production line
Each garment/product is quality checked before leaving the production floor.
At packing
Each garment is checked again at Creative Handicrafts HQ before it is packed for shipment.
A winning choice
Healthy work conditions and fair pay are just the beginning at Creative Handicrafts. We are an enthusiastic member of the Fair Trade movement because we believe it's possible to deliver great products without exploiting the people that make them.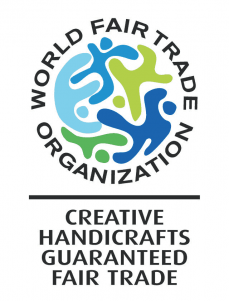 Spec sheets with garment measurements at different parts of the body eg. hips, chest, neck etc…
Drawings of your designs
Fabric color and print pattern suggestions/swatches
Patterns if available. If submitting patterns digitally, please supply DXF files.
Sample pricing depends on the project and product complexity. Contact us a for a quote.
As above, it depends on the quantity and complexity of the samples. We suggest you plan to allow 3 months for a sampling cycle.
Our standard minimum is 1000 units total per order with a minimum of 100 units per style. Contact us to discuss your requirements if your needs fall below this range.
Send us a sample and we'll offer you ideas on how to recreate it. Keep in mind there will be minimum production quantities (dependent on the type of product). Please contact us so we can discuss your options.
We can produce up to 40,000 pieces per month, depending on the complexity of the products being manufactured. Please do contact us to discuss your requirements.
Allow 90-120 days from order confirmation to shipment. Actual timing depends on the quantity and complexity of products in your order.
Standard Fair Trade terms; 50% advance, 50% on delivery. Other terms by arrangement only.
We box up all your product ready for shipment as per your specifications. We deliver product FOB which means you take delivery of it once we hand it over to your shipper of choice. That could be at pick-up from the warehouse for an air shipment or at the port for a sea shipment.
Look behind the scenes of our manufacturing process